Foundries with big ambitions: a global view
Castings from housings to flanges: an affordable moulding line for small foundries worldwide
Global casting production continues to grow. In percentage terms, the growth rates for aluminium castings are certainly higher than those for the other alloys, but more than 70% of all castings are still produced in iron: nodular, malleable and grey iron. In the major countries, this part of the market has been subject to a continuous concentration process.
Large foundries and foundry groups expand their capacities to adapt to the cost pressures from the automotive industry.
Production is automated, continuously optimized and the number of operators minimized. The foundry equipment industry is actively involved in and supporting foundries in this development.
Large-scale production is being optimized, production lines are getting ever more complex.
However, these high-performance lines will only reach their break-even point, if they are run for 15 shifts or more per week.
And there is another side to the foundry industry: the many small and medium-sized, often family-owned foundries that supply customers in their immediate regions with the everyday, small-series castings that are also needed all around the world.
These small and medium-sized operations can be found anywhere, not just in industrialized countries.
They're the overwhelming majority of foundries and contribute to the smooth running of life everywhere.
| | | | | |
| --- | --- | --- | --- | --- |
| | Production per year in t | Amount of foundries total | Capacity less than 10.000 t/y | Capacity less than 5.000 t/y |
| China | 45.000.000 | 26.000 | 20.000 | 12.000 |
| Brasil | 3.300.000 | 700 | 653 | 633 |
| Thailand | 2.500.000 | 220 | 200 | 160 |
| Indonesia | 670.000 | 57 | 36 | 31 |
| Vietnam | 250.000 | 85 | 83 | 80 |
Table 1. Foundries in selected countries
But what kinds of machines and plants do these foundries use in their production? DISA figures indicate that, in China, there currently are around 50,000 to 60,000 jolt-squeeze machines in operation.
Until now, the leading foundry equipment manufacturers have had no specific approach for equipping these customers with more efficient, cost-effective and flexible moulding lines.
In Central Europe, this market segment was covered by less flexible, mostly mechanized, tight-flask high-pressure moulding systems with heavy foundations.
This approach does not scale globally, as the price of a single flask is equivalent to around three monthly wages of, for example, a Thai foundry worker.
Thus, most of the foundries listed in table 1, with an annual production of less than 5,000 t/y, and even parts of the <10,000 t/y segment, continue to operate with jolt-squeeze machines.
In light of this finding, it's important to bear in mind that the shortage of labour in foundries is a global problem, as are increasing cost pressures, the demand for more flexibility and the growing complexity of castings.
Foundry Gieterjen en Werkhuizen Alidor Claeys, Belgium
The owner of Belgian foundry Gieterijen en Werkhuizen Alidor Claeys, Mr Rik Claeys, was unwilling to accept this situation.
He was already running, among other equipment, two older DISAMATIC lines and was keen to merge their production on a new, larger DISAMATIC.
This was made possible through the use of adapter plates. By doing this, Mr Claeys takes advantage of faster pattern changes and low foundation and investment costs. In his foundry, the production of castings on a DISAMATIC now starts at a batch size of 25 parts.
This threshold is caused by the volume of the drum ladle for the pouring process: between 300 to 350 kg.
For these small quantities, the installation of an automatic core setter and the production of core masks for each cored mould would result in higher costs and is therefore not economical.
A different solution was needed. It was found in a new sliding door technology, developed for DISAMATIC.
Figure 1: Large sliding doors give sufficient access for core setting
After each mould, the swing plate stops in its horizontal position and the sliding doors open to either side at the front of the moulding chamber. This means there is sufficient space on both sides of the moulding machine to press or nail on any cores, filters or chaplets into the two mould surfaces.
Figure 2/3: The use of chaplets and the additional affixing of the core print with nails
The commissioning of this new moulding line triggered an innovation boost in Mr Claeys' foundry. The easy accessibility of the two mould surfaces, the direct manual insertion of the cores and the possibility of placing exothermal feeders away from the parting line have expanded the application range of vertically parted moulding enormously.
The ability to insert cores into both mould halves increases the achievable complexity of castings. And the foundry is not afraid to stretch the limits of vertical moulding, as is shown in figure 7. The core, weighing 11kg, is placed on the bottom plate of the mould chamber and pushed into the mould. Despite the vertical parting, the core construction and green sand quality avoids iron bottom run-outs.
Figure 4/5: Sufficient access from both sides to entire surfaces of both moulds
Figure 6/7: Cores in both sides of the mould; no limitation for core prints
The DISAMATIC type DISA 130-B, the predecessor of the new DISAMATIC D3-365, with dimensions of 535 x 650mm, is manufactured in Copenhagen, Denmark, and has a total length of 60m, including pouring and cooling section.
The moulds are poured with drum ladles, which currently prevent the plant from achieving its maximum possible moulding speed.
The foundry is in production 7.5 hours per day, with 10 to 15 pattern changes per shift. Depending on daily output targets, between 700 and 900 moulds are poured in these 7.5 hours.
For coreless jobs, a moulding capacity of 150 moulds per hour is achieved – due to the manual pouring. The cycle time for the production of cored castings, using the sliding doors system shown in figures 2 to 7, is circa 30 seconds, resulting in an output of around 120 moulds per hour.
Mr. Claeys is convinced that investing in the DISAMATIC moulding line was the right decision. He is very pleased with the low downtime of the sliding door system and he had not expected the much reduced spare parts requirement.
However, the investment costs have been significant for a moulding line that has a capacity of up to 350 moulds per hour, but that is used only up to 150 moulds per hour.
As already mentioned, Mr Claeys' business is not the only foundry faced with this situation. In Europe, there still are many foundries with a similar profile. While there are no doubt many foundries who are interested in further increasing their current maximum performance, a high level of output doesn't apply to everyone.
The global community of foundries is as diverse as their total number: each one is unique.
DISAMATIC around the world
The same is true with customers in Southeast Asia or South America. Foundry requirements are similar to those in Europe, but the headroom for investment is tighter.
Building on learnings from Mr Claeys' foundry in Belgium and acknowledging the growing demand from other parts of the world for a cost-efficient solution that is manufactured locally and can be supported by local service technicians, the development of a new vertical moulding line began.
The new development, the DISAMATIC C3, is now available for the two most commonly purchased moulding chamber dimensions, 480 x 600mm and 535 x 650mm, in three different moulding speeds (table 2).
The solution for up to 150 moulds per hour can be supplied with a sliding door for core setting.
This version and the moulding machine for up to 250 moulds per hour are manufactured in India. The faster version can be equipped with an automatic core setter.
A version for up to 350 moulds per hour, optionally with automatic core setter, will be made in China. For comparison, table 2 also shows the moulding speeds for the DISAMATIC D3 lines.
| | | | | | |
| --- | --- | --- | --- | --- | --- |
| | Moulding speed coreless in moulds per hour | Moulding speed with core setting in mouls per hour | Variable mould thickness in mm | Made in | Core setting via |
| D3 | 555 | 485 | 120 to 395 | Denmark | Automatic core setter |
| | 425 | 380 | 120 to 395 | Denmark | Automatic core setter |
| | 365 | 333 | 120 to 395 | Denmark | Automatic core setter or sliding door(s) on request |
| C3 | 350 | 300 | 120 to 340 | China | Automatic core setter |
| | 250 | 220 | 120 to 340 | India and China | Automatic core setter |
| | 150 | 120 | 120 to 340 | India | Sliding door |
Table 2. Machine types available
In the first two years of production of the C-type moulding lines, sales were limited to China and India. As of 2018, the equipment is available worldwide.
The machines are robustly designed and their guaranteed machine-related mismatch of 0.25 mm equals that of the former DISAMATIC 2013 series.
The double-sided squeezing of the mould has an advantageous effect on the uniform hardness of the green sand moulds, and thus on casting quality.
Up to 40% of the maximum squeeze pressure can be covered by the swing plate.
Both squeeze and move distance can be adjusted up to 70 mm to the mould chamber front. Because of its excellent value for money, the C-type moulding line has been very well received by the foundry market. The total number of machines sold will reach around 75 this year.
This is hardly surprising, considering the sale price is roughly 50% of the price of a high-performance vertical moulding line from Europe.
But it has been the consistently positive experience of customers that has contributed to the success of this new moulding machine.
Since having the idea for this article, a number of visits have been made to a range of foundries using the new solution – to hear directly from equipment users about their experience and see proof of the good results they have achieved with the new machine.
The process of switching production to this new type of moulding line is shown in the following examples of four real-life foundries from India and China.
As part of this, we will cover a move from the furan-resin process to the green sand moulding system in the production of smaller castings.
We will also see the current state of technology at a foundry that started producing automotive castings only four years ago.
We will visit a Chinese foundry that has switched from jolt-squeeze to vertical moulding, and last but not least we will look at a foundry that has moved from vertical moulding plants from a domestic supplier to production on DISAMATIC.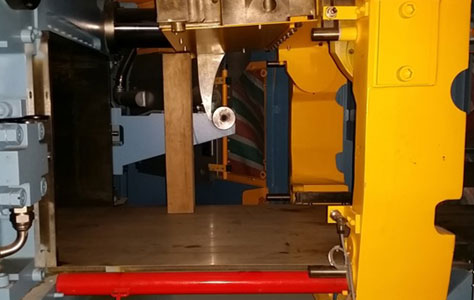 Figure 8:
The lifting tool is assembled at one of the SP sides of the 150/250 series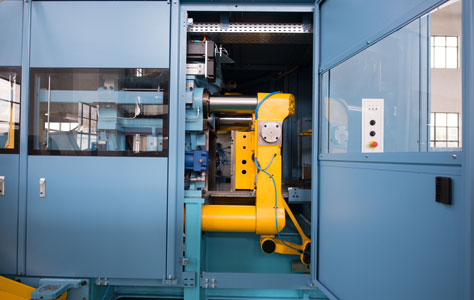 Figure 9:
The 350 series is equipped with lifting tools at both sides of the SP, as well as heating plates
OM Metal Cast, Rajkot/India
OM Metal Cast is a new foundry facility that was built only 18 months ago and is located near the town of Rajkot in Western India.
The company itself has a long tradition and, before moving to the new site, was located in the center of Rajkot. Here, it ran as a jobbing foundry, producing castings using the furan-resin process.
The move saw the installation of two new cupola furnaces with a capacity of about 2t/h which are in production twice a week for up to six hours.
At the moment, the liquid iron is being divided between a new DISAMATIC C3 with a chamber size of 535 x 650 mm for up to 150 moulds per hour and the furan-resin moulding operation.
With the installation of the new vertical moulding line, the foundry has started converting patterns from furan-resin moulding to the new equipment.
Currently, pouring on the vertical line is still provisionally carried out with fork ladles, which are lifted manually for pouring.
However, the installation of an induction furnace facility as well as a crane system for the transfer of ladles to the moulding line is almost complete and will soon be ready for production.
Following this, it will be possible to extend production considerably.
The foundry's owners are already very satisfied with the results of their investment. From the outset, the aim has been to increase production gradually.
As operations are becoming more profitable, proceeds can be reinvested immediately. The foundry funds its own, organic growth.
The switch from furan-resin production to such an effective moulding line requires a continuous learning process. Every day, new sets of pattern plates are transferred to the vertical process.
As part of this process, the foundry has gained so much experience that the vast majority of pattern plates get the required casting quality right first time.
Figure 10-1 & Figure 10-2: Castings converted to the green sand process
The sliding door system for core manual setting has proven to be highly useful, as this foundry too mainly produces small-series castings.
This is mainly done using mixed pattern plates, with up to four different castings produced in one mould. The cores come from the in-house cold box core shop, made up of five core shooters from an Indian manufacturer.
DISA's sand plants have been adapted to the local climatic conditions. After mixing, the green sand is emptied directly into the sand supply unit of the moulding machine and stored there for only a short time. Subsequently, green sand is fed directly to the moulding machine via a short conveyor belt.
These short distances significantly slow down the drying out of the sand and hence contribute to a consistent, good sand quality and, consequently, mould quality.
This concept of short distances from the mixer to the moulding machine has been applied successfully in many foundries.
Figure 11:
TM mixer feeds directly into the sand supply unit of the DISAMATIC
The example of this foundry proves every day that the maximum utilization of the moulding line is not everything. During the six hours of production of the cupola furnaces, about 50 to 70 moulds are poured per hour.
What counts is that the castings meet customer requirements and that the foundry runs at a profit. If these two conditions are met, production will continue to grow.
Madras Engineering Industries, Chennai/India
Based near the city of Chennai in India, this 100% nodular iron foundry manufactures automotive castings - and bears comparison with any foundry of similar type in Europe.
Both its foundry technology and its quality management system are state of the art. The foundry produces up to 250 moulds per hour with a DISAMATIC C3. Integrated in the moulding machine is an automatic core setter, which ensures a production of up to 220 moulds per hour with cores.
Directly after pouring and cooling, castings move onto a conveyor and into a cooling drum to separate the sand from the castings. An apron conveyor then transports the castings to the shot blast machines. Due to the range of castings produced, it was decided not to integrate a continuous through-fed shot blast machine.
The castings are fed either to a batch-type barrel or to a hanger-type shot blaster.
The foundry uses an induction melting shop, an automatic and mobile Mg-treatment station that was developed in-house, and an unheated pouring device with camera-controlled stopper pouring unit.
The foundry has been in production for just over four years, running in three shifts, six days a week. Approximately 90% of production are cored jobs. The average production speed when using the core setter is 185 moulds per hour.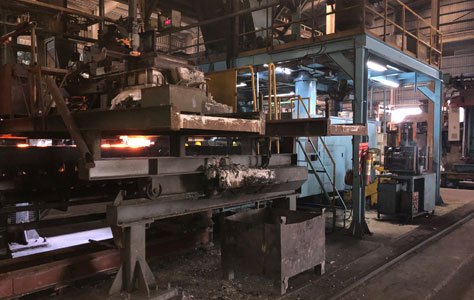 Figure 12: DISAMATIC and unheated pouring device
This figure takes into account material shortages, extended pouring times for individual products and plant downtime due to faults. The moulding line produces around 4,000 moulds per day with roughly four pattern changes per shift. To date, the moulding line has produced 2.9 million moulds.
After each and every fault or disruption to the line, the maintenance lead carries out detailed root cause analyses.
The status of machines and systems is can be viewed on a large display panel in the maintenance manager's office.
The team is 100% committed to preventive maintenance. Uptime of key machines was 95.46% in November 2017, for auxiliary machines the uptime was 99.37%.
Times for essential repairs are recorded and evaluated in order to shorten them for the next recurrence.
Since the moulding line in operation is one of the first of its kind to go live, the foundry is in continuous contact with the design team in order to jointly work on optimizations.
When speaking to both management and employees, the sense of pride in their foundry is palpable, as well as a strong belief in their ability to continue improving production.
There's no need to ask whether they would make the decision again and how satisfied they are with the line.
The foundry has already decided to get another DISAMATIC line of this type, which is currently being installed parallel to the first production line.
Guangdong Yangjiang Desheng Metal Company / China
The Guangdong Yangjiang Desheng Metal Company, and its foundry, is based near Macau in the south of China.
The main focus of production is rollers and wheels for various types of containers and furniture, which means mainly rotating symmetrical parts.
The foundry was established in 1992, with ten pairs of jolt-squeeze machines for approx. 130t/month of good castings, which were in operation until 2015. In April 2015, a DISA 030 - precursor of the DISAMATIC C3-250 - was installed.
Since then the foundry has been producing grey iron and nodular iron castings for the company's own use in one shift per day, four days a week.
There are three to five pattern changes per shift and a total number of 200 different living pattern plates.
Depending on the pattern, 10 to 20 kg of liquid iron are needed to pour each mould, with a yield of 71%.
On average, 210 moulds per hour are produced and poured for coreless jobs, and 150 moulds per hour for cored jobs.
During about 50% of production time cores have to be inserted via the automatic core setter, with between five and 40 cores per mould.
The core weight varies between 10 and 800 grams. The foundry is clearly structured and very clean. Currently, 200t of good castings are produced per month and the company is very satisfied with the many advantages of the new plant compared to the initial set-up.
In addition to a reduced scrap rate and the very high uptime of the line, they are particularly pleased with the significantly improved surface quality. The company logo on cast parts is now clearly legible.
Figure 13/14:
Moulds and castings at Guangdong Yangjiang Desheng Metal Company
Guangzhou Deshan Digital Science Technology Company / China
This foundry produces a high casting output. Employees of the foundry are very experienced and have been working with vertical moulding technology for many years.
2017 saw the installation of one of the first DISAMATIC C3 moulding lines with a maximum moulding capacity of 350 moulds per hour.
It runs side-by-side with two domestic lines, enabling the foundry to make a direct comparison.
According to their experience, a major advantage of the DISAMATIC C3 is the use of a quick-lock system for changing pattern plates.
While the other lines still require the pattern plates to be screwed into the moulding machines, the DISA machine ensures pattern changes can be carried out very quickly and precisely.
The foundry specialises in the production of compressor housings for use in white goods.
With the new moulding machine, there are no problems with casting mismatch. Production is very stable and high uptime is a clear advantage of the DISAMATIC.
In order to meet constantly rising cost pressures, production has been expanded to seven days a week with three shifts per day, which means 23 hours production per day.
That leaves only one hour per day for repairs and maintenance of the moulding line. The average number of moulds produced and poured is 330 moulds per hour for the C3.
Due to the high performance of the line, 900,000 moulds have been produced in just six months.
At this point the chamber plates had to be changed for the very first time. To date, the line has produced 2.25 million moulds in approximately one year.
The inexpensive and fast production of high-end cast products in large series on vertical moulding machines with very short cycle times has been the state of the art for many years.
This article has looked at foundries producing castings in small series, sometimes with the intensive use of cores.
We've also described in some detail the use of automatic core setters, which require the use of core masks and the use of automatic sliding doors, which allow the direct setting of cores into the mould.
For this application, a new type of vertical moulding machine has been developed – the DISAMATIC C series.
Built at Norican Group facilities in India and China, it can be offered at competitive prices – around 50% lower, compared to traditional DISAMATIC technology.
These systems are not designed for high output, but for use in small and medium-sized foundries for which a move to vertical moulding technology has previously not been economical.