Payment by results: DISA Application win-win consultancy
Payment by results: DISA Application's win-win consultancy boosts quality, yield and profit at zero risk
Foundries working with DISA's Application team of specialist engineers can now benefit from a zero risk 'Win-Win' contract, an agreement whereby customers only pay once DISA has delivered real improvements to their process to help them overcome specific casting challenges. One recent Win-Win engagement saw DISA Application improve a client's yield by 8% with scrap also dropping significantly – by over 20% for one product. Visitors to the DISA's GIFA stand (Hall 11, stand A74 – A78) will be able to find out more about this opportunity to transform the performance and profitability of their casting process.
"With a Win-Win contract, instead of paying a consultancy day rate, the client pays by results," explains Bo Haugbølle, Vice President of OEM Sales Support at DISA. "No win, no fee. This arrangement means DISA Application is only paid when it improves the process, so we take the risk – not the client."
Achieve risk-free process improvements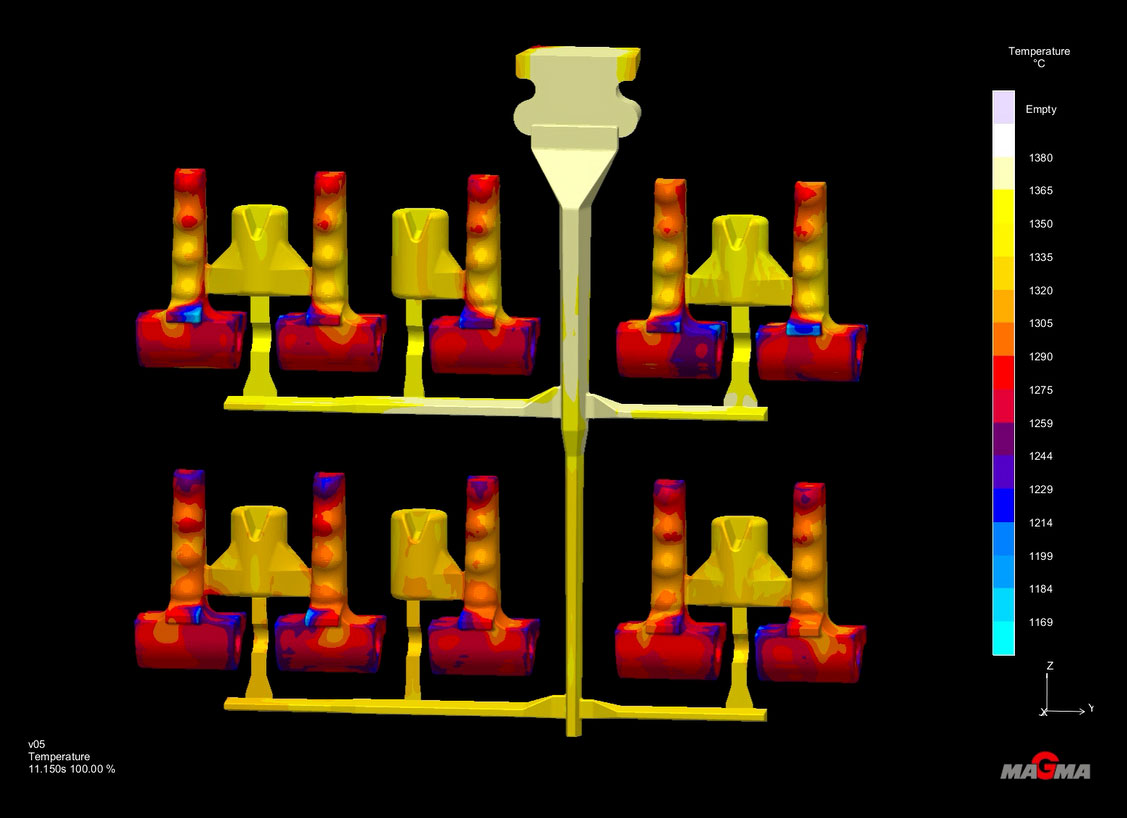 Using their unmatched experience and sophisticated tools like Magmasoft® simulation and mass spectrometry, DISA Application specialists tackle hard-to-diagnose problems like high scrap rates, poor surface finish and low productivity. They evaluate every last detail to diagnose a problem's cause, from machine settings, sand mixing and mould density to metal properties and pattern design.
Application engineers agree target metrics with clients and guide them through the improvement journey, testing and measuring, making recommendations and managing their implementation. In one recent project, the Application team spent a year helping an Asian foundry client tackle stubborn issues with its casting quality.
According to the foundry manager, it was simply a case of taking the time to trial the suggested process changes. "We saw immediately that there was no risk for us," he says. "Their input gave us immediate improvements. It was a very attractive solution."
Getting better all the time
The Application team evaluated and made adjustments in many areas of the foundry, from pouring times and cup design to inoculant sizing. However, it rapidly became clear that the pattern designs, feeder necks and gating layouts were at the heart of the problem. In a process of incremental improvement, the DISA team generated new pattern designs, reviewed test results and re-ran simulations.
"In many cases, we needed new, completely redesigned patterns, along with a large number of other modifications, both small and large," says the client. "As the engagement continued, the casting quality became better and better." The final results were summarised in a Foundry Optimisation Report – a logical, step-by-step analysis of the theories, observations, adjustments and tests applied, along with a roadmap for future improvements.
We will be working with DISA to optimise other foundry processes in the near future. I am very happy to recommend them to any foundry that wants to get the very best quality and productivity results.
Winning for the business
DISA Application definitely delivered a win for this foundry. Yield improved by at least 8% and, in the case of one product, by 14%. Scrap was also reduced significantly, by over 20% for one product.
"We've been able to see how effective the team are at solving foundry problems and are very happy with these excellent yield improvements," says the client. "Our own engineers have learned a huge amount about the vertical process from DISA and we now completely trust the Application team to deliver results."
"We will be working with DISA to optimise other foundry processes in the near future," continues the client. "I am very happy to recommend them to any foundry that wants to get the very best quality and productivity results."
"A lot of foundries have these kinds of quality problems," says DISA's Bo Haugbølle. "They make small alterations and might advance a little, but they don't have the knowledge required to make the many, often radical changes that can be required. To really improve, they need expert help."
That expert help now comes with a Win-Win option and a cast-iron guarantee: you only pay for real, measurable improvements.